Luís Costa is currently in South Africa where on Thursday he became the first Portuguese para-cyclist to win a medal at the Para-Cycling Road World Championships being staged there. Costa managed the feat when he ended third in the Men's H5 23.3 km time trial. Former Formula One driver Alessandro Zanardi, the man who motivated Luís to take up the sport, won the gold medal.

But Luís' road to glory started long before his achievement on Thursday afternoon.
A motorcycle accident on his 30th birthday, resulting in the amputation of his right leg, changed his life forever. But after emerging from a coma five days after the accident, he went about coming to terms with his new reality. Thirteen years later, and against all odds, Luís was competing at the 2016 Rio Olympics.

"My inspiration to take up the sport of para-cycling came from the former Formula One driver Alessandro Zanardi", explains Luís Costa.
Incidently, Zanardi was the winner of time trial on Thursday.

Zanardi lost both his legs in 2001 in a racing accident, and later arguably became the most famous para-cyclist in the world.
"I followed him during the London Olympics in 2012 and after a few months, I purchased a hand-bike.

"It all began in September 2012, and I started competing in March 2013", explains the Portimão PJ Police detective who specialises in economic crimes.

"I taught myself how to operate the hand-bike, as I was never really into cycling before the accident. However, I had always been very active, and after the accident I spent much of my free time in the gym", reveals Luís, who less than a year after the London Olympics participated in his first international competition where he competed against his hero and inspiration Alessandro Zanardi.

Zanardi came second in the event, but the big surprise came when Luís crossed the line in third.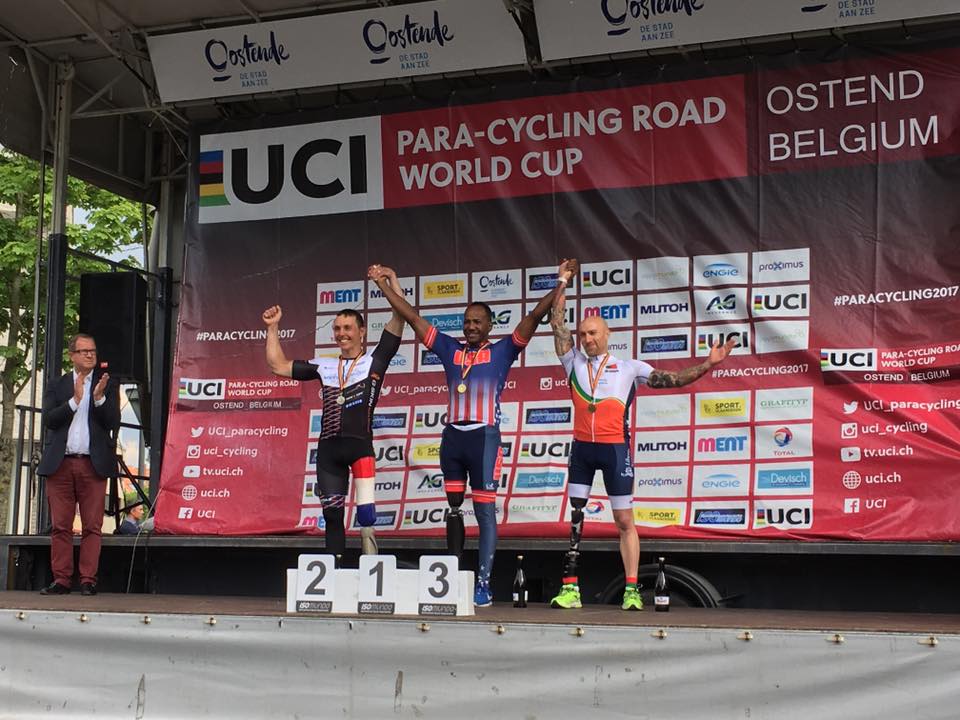 Luís Costa pictured here after winning bronze at the World Cup in Belgium earlier this year
He has in recent years received additional support from the Portuguese Cycling Federation which now believes that Luís is a strong contender for a medal at 2020 Tokyo Olympics.

He has also received support from his superiors in the police, allowing him to take time off in the morning to practice.

Luís turned 44 in June and will be 47 for the Tokyo Olympics, but says he feels he is in prime shape and recalls, "Alessandro Zanardi is 50, while Dutch cyclist Johan Reekers is 60 and has been to nine consecutive Olympics and he will probably be going to his tenth in Tokyo."

This Saturday afternoon, Luís will be taking part in a 60.7km individual road race that will see him given another opportunity to collect a medal.

His best result to date at the World Championships was 7th along with an 8th position at the Olympics.

"But ending lower than 5th will be a huge disappointment", admits Luís, whose third place at the Para-Cycling World Cup in Belgium last spring underlined his potential for a podium finish in Pietermaritzburg.

In terms of backing, Luís is classed as a high-performance athlete that affords him a small subsidy from the Federation and support from his club Sporting. Other additional expenses come from private entities, but he mostly receives help in terms of sponsorship, which includes support such as complimentary gym membership or free dental care.

But additional financial funding would greatly enhance his cause.

"My current race bicycle costs 25,000 euros including spares.

Obviously if I was a professional athlete and focussed solely on the sport I'm certain I would be able to improve my results", he explains.

For now, and despite a minor accident on Tuesday during a practice ride in South Africa, Luís will be stepping on the podium to mark five years of hard work and dedication.

In comments to The Portugal News on Thursday shortly after his ground-breaking achievement for the sport in Portugal, Luís Costa said: "I entered this time-trial with some anger as I have had a lot of misfortune this past week.
"I fell on Tuesday and I could only replace the damaged parts on Wednesday afternoon. This caused me considerable stress, but also made me want to show even more that I was here to fight for a podium finish.
"I started strongly and carried on through to the end, evidence of which is the fact that I finished only 47 seconds behind the race winner Alessandro Zanardi.
"I'm super happy and I hope this medal brings me more recognition from potential sponsors in the future", Luís concluded.