1. WOODSTOCK WAS BANNED FROM ITS ORIGINAL SITE BECAUSE OF TOILETS
Woodstock was conceived in early 1969 by a group of twenty-somethings: Artie Kornfeld, Michael Lang, Joel Rosenman, and John Roberts. In January of that year, the four men—Kornfeld and Lang as music industry vets and Rosenman and Roberts as venture capitalists who provided the financial backing— formed the company Woodstock Ventures, named for the New York town that Kornfeld and Lang were scouting to build a recording studio in. Woodstock had long been known as an artists' retreat about two hours north of New York City, and even has its own "Artists Cemetery" for a variety of creative types.
The original site of the festival was intended to be at Howard Mills Industrial Park in Wallkill, near Middletown, New York. After negotiations with landowners, the four believed they had found a solution. But Wallkill residents shot the idea down, fearing that an influx of visitors—possibly under the influence of alcohol or drugs—would be potentially problematic. By insisting the concert's portable toilets weren't up to code and refusing to grant a permit, Wallkill effectively banned Woodstock from taking place there just a month before its scheduled August 15 start date.
2. WOODSTOCK WAS SAVED BY A FARMER
When Wallkill fell through, promoters turned to Bethel, New York, a small town with just 2366 residents where a farmer named Max Yasgur owned a 600-acre dairy farm. As in Wallkill, Bethel residents were not terribly enthusiastic about hosting a concert that would attract a considerable crowd. But Yasgur didn't share their apprehensions. Even though he was middle-aged, blue-collar, and as far from a "hippie" as he could be, he respected the desire of concert-goers to share in a communal experience and allowed organizers the use of his property for a fee of $50,000. He even came out at one point to address the crowd (above), congratulating them on the assembly. It was said he received as loud an ovation as Jimi Hendrix.
3. WOODSTOCK WASN'T MEANT TO BE A FREE CONCERT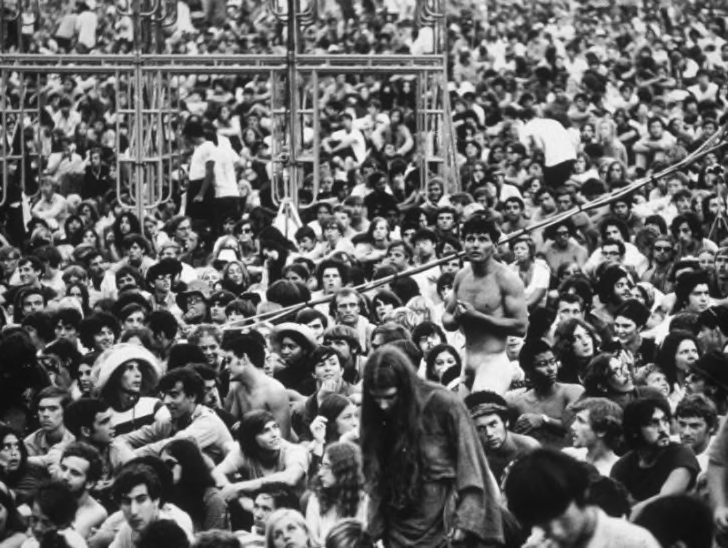 HULTON ARCHIVE/GETTY IMAGES
Mounting Woodstock was not intended to be an altruistic venture. Kornfeld, Rosenman, Roberts, and Lang paid for talent, production costs, Yasgur's site, and incurred other expenses in the hope of profiting from ticket sales. One day's admission was $7; attending all three (which stretched into early Monday morning due to rain and technical delays) was $18. But as people began to show up to Bethel days before the scheduled start, the infrastructure was still incomplete. Fences still needed to be erected and ticket booths set up. With no practical way of turning away crowds, the partners decided to make it a free event for people who had not purchased one of the 100,000 tickets that had been pre-sold. Of the 400,000 who ultimately attended, 300,000 were never charged an admission fee. (The total number of attendees would have likely been more if not for traffic back-ups. Some people walked miles to the site.)
After expenses, the partners ran into a deficit. Two of them—Kornfeld and Lang—sold their share in Woodstock Ventures, the company they had formed to put on the concert. Roberts and Rosenman eventually saw a modest profit after other income sources, like the 1970 concert film Woodstock, were tallied.
4. MANY COWS WERE IN ATTENDANCE
Yasgur's farm was a functioning site of business, which meant that the incoming crowds were going to be displacing the cattle usually present on site. His workers tried to corral them into a fenced area, but so many people ran over the barrier and set up campgrounds that they decided to just let the cows wander and mingle with attendees. One of Yasgur's employees, George Peavey, told United Press International that the cows and music fans "seem to be getting along together fine."
5. JIMI HENDRIX GOT $18,000 TO PERFORM
Booking big-name acts didn't come cheap. Jimi Hendrix was Woodstock's highest-paid performer, earning $18,000 (roughly $125,000 in 2019 dollars, accounting for inflation). Creedence Clearwater Revival, the first act booked, received $10,000. The Who received $6250 (although another report has them receiving $11,200) and Joe Cocker made a relatively paltry $1375. Sha Na Na got $750, while Quill was the most economic booking at $375.
The worst part is that not everyone who attended Woodstock got to see Jimi Hendrix's performance, including his interpretation of "The Star-Spangled Banner." His set began on Monday morning after a lot of the audience had already left. Some estimates say only 30,000 people were remaining in the audience.
6. WOODSTOCK'S MUSICAL ACTS NEEDED TO BE HELICOPTERED IN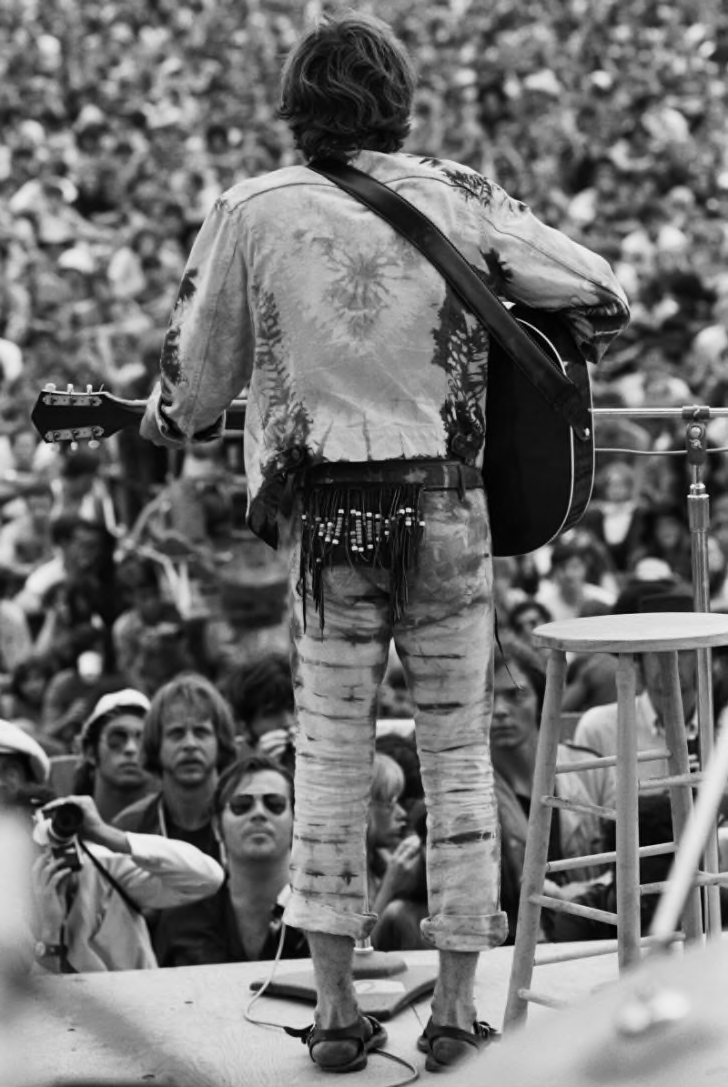 TULLIO SABA, FLICKR // PUBLIC DOMAIN
The traffic leading into the event was so awful that Sweetwater, which was due to open the festival, didn't make their scheduled start. (Richie Havens went on instead.) The band was airlifted to the grounds by helicopter so they could go on second. A number of other performers also traveled by air to circumvent the traffic issues.
7. WOODSTOCK'S CROWD WAS ACTUALLY VERY WELL-BEHAVED
Despite concerns from both Wallkill and Bethel over the anticipated misbehaviour of attendees, virtually no reports of violence ever came out of the festival. When those in attendance used telephones to place long-distance calls back to home, local switchboard operators were amazed that all of them said "thank you." Lou Yank, the chief of police in nearby Monticello, declared them "the most courteous, considerate, and well-behaved group of kids I have ever been in contact with in my 24 years of police work." The only real impropriety came as a result of concession food shortages, driving some attendees to loot nearby farmland for corn and produce.
While it's possible law enforcement could have arrested many, many people for marijuana possession, they opted not to. As one state police sergeant said, there "wouldn't be enough space in Sullivan County, or the next three counties, to put them in."
8. EVEN THE ICE HAD ACID IN IT
Woodstock has a well-earned reputation for being a trip in more ways than one. Drug use was pervasive and seemingly inescapable. In 2009, the Who's John Entwistle told Billboard that he decided to drink a bourbon and Coke and realized that someone had spiked the ice with acid. The use of psychedelic drugs was estimated to have resulted in 25 "freak-outs" every hour the first night of the festival; emergency medical staff and members of a commune known as the Hog Farm sat with attendees until the drugs wore off.
9. THE WHO'S SET WAS CRASHED BY ABBIE HOFFMAN
Performing on day two of the festival, British rock band the Who experienced an interruption when political activist Abbie Hoffman (who had co-founded the Youth International Party the previous year to protest the Vietnam War) rushed on stage to protest the imprisonment of White Panther Party leader John Sinclair. Pete Townshend swung at Hoffman with his guitar and ushered him off-stage. It was probably worth the hassle, as Townshend later said he thought their performance boosted sales of their Tommy album.
10. THERE WERE PUBLIC SERVICE ANNOUNCEMENTS BETWEEN EACH ACT